---
CCDV "Grinch Breakfast" at Lancer's Diner, Horsham, PA (12-4-2021)
Denny & John are spreading the Christmas Spirit.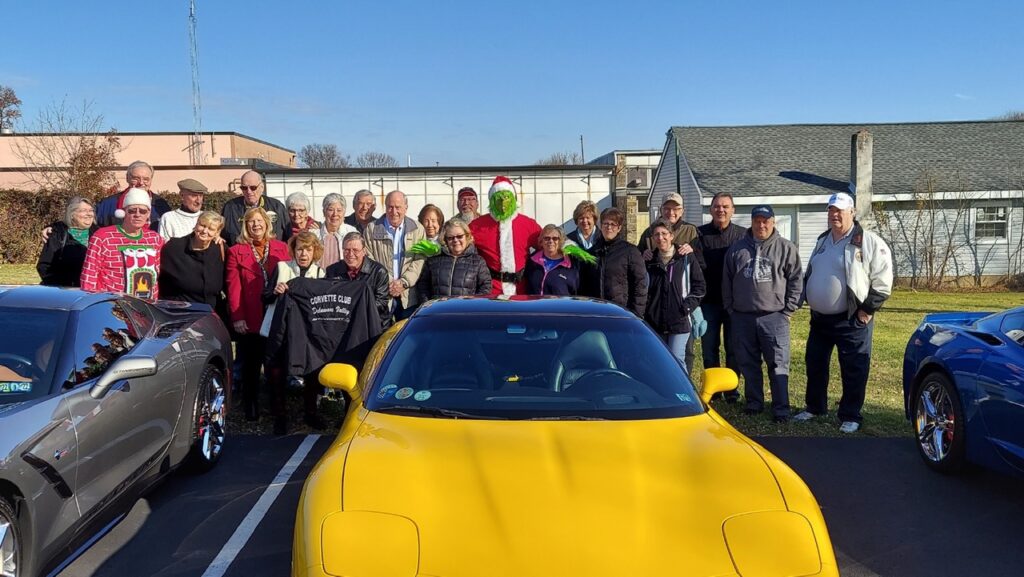 ---
Chariots of Fire Car Show, Morgantown, PA (Nov 20-2021)
We say goodbye for the year with the last outdoor car show at the Morgantown Auto Mall. Yes, there were about 185 crazy dedicated car lovers who braved 26-degree morning temperatures just to have the bragging rights to say they did it!
The club members who were winners are: John Pergine – Best in Class and Al DePue – Top 50. Candy & Chris Merlino were there, and decided it was better under their blankets. Congratulations to our winners!
The November show also collected food donations for Pastor Weed's food bank, which benefits needy families in the community. John and Barb delivered about 400 pounds of potatoes, onions, and apples to the food bank that Friday. Thanks to everyone who brought a food item.
---
CCDV Members have Dinner at Giovanni's Pizza, Warwick, PA (Nov 20, 2021)
We had a fun time again at our monthly dinner at Giovanni's Pizza with 26 members in attendance. As always, we all shared stories and had lots of laughs all evening long. The restaurant was full, and we were glad our dinners took a bit longer to get to us so that we could share stories and enjoy each other's company.
Afterwards some of us decided to have our dessert as ice cream, Again. We headed over to Uncle Mike's on York Road. Having fun is what it's all about.
---
Philadelphia Veteran's Day Parade (Nov 7, 2021).
CCDV members drove Gold Star Mothers & Veterans in the parade.
Ed Bonk was driving the first female Grand Marshall of the parade; Lt. Cmd Kristen Leon of the U.S. Navy.
---
Jefferson Fire Company 5th Annual Car Show, West Norriton, PA (Nov 6, 2021)
The Jefferson Fire Company Car Show started out as the coldest morning of the year at 35 degrees as everyone filed in to get their front row spots. Free coffee and donuts were provided in the morning inside the fire house. The lunch menu was great too. The Chinese auction had a 50" TV, $50 gift cards, outdoor fire pit and many more items. They also had lots of door prizes and gave away over 65 trophies which were donated by one of their sponsors, Black Horse Auto Body. There were approximately 285 cars, and we hope to have more club participation next year as we all enjoyed the show and hanging out with friends. Look forward to many more of these get togethers in 2022.
The club members who were winners are: Mark Ercolani for the earliest arrival and Top 50 for his Corvette, Kerry Duke – Top 50 for his '52 Cherry Red Chevy, John Indelicato for Best Truck for his '48 Green GMC, John Pergine and Pete Nikolopoulos – Top 50 for their Corvettes. CCDV also won the Club Participation Award for the second time with 16 members. Congratulations to all our winners!

---
Dinner at Angelo's Restaurant, Horsham, PA ( October 2021)
---
Kentucky 1 Lap, Bowling Green, Kentucky (October 2021)
Chevy made 'em, we drive'em . We took our 2014 on the Kentucky 1 Lap, an event with the NCM and the Kentucky State Police, all lead by the State Police. 24 Corvettes make for a fun time. Corvettes from all over the country, and the proceeds go to Trooper Island, a summer camp for needy children, run with no taxpayer funding & founded in 1965. Jack & Dor DeLong
---
CCDV Trip to Lake George, NY (9-20/22-2021)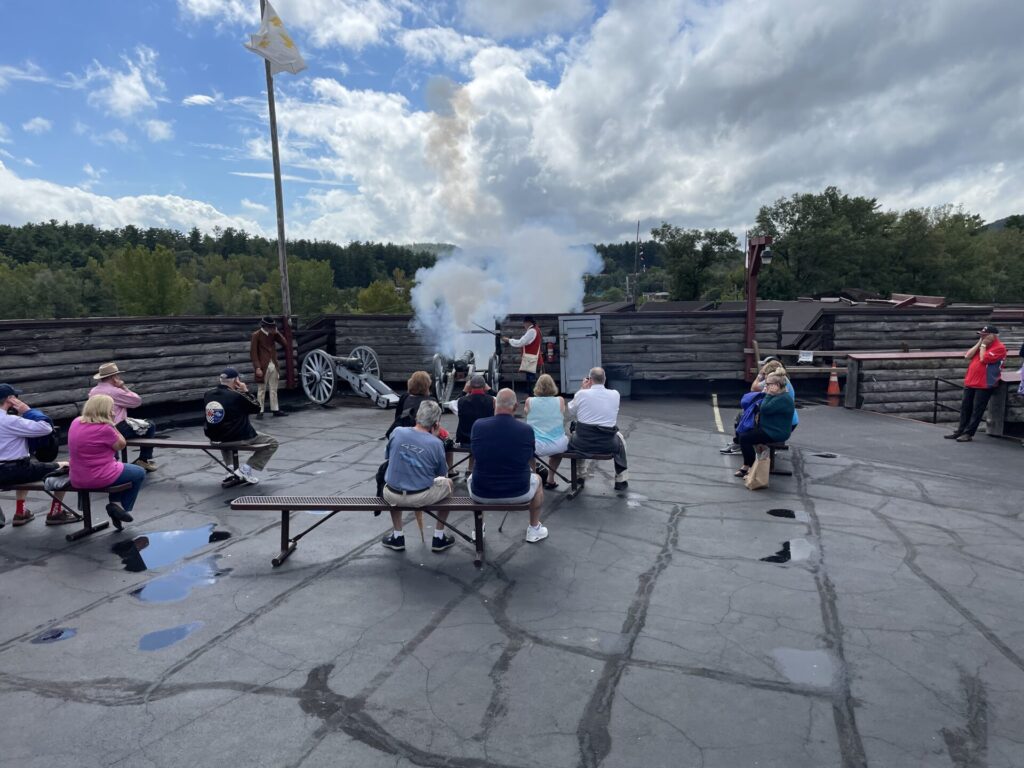 ---
CCDV Cruise Night @ Valley Square, Warrington, PA (9-18-2-21)
---
Corvettes on the Boardwalk, Ocean City, NJ (9-12-2021) *CCDV wins Best Club participation Award*
---
CCDV Picnic, indoors at Warminster VFW (due to rain) (8-22-2021)
---
Reading Phillies, Reading, PA (7-17-2021)
---
Simeone Foundation Auto Museum, Phila, PA (7-18-2021)
---
Independence Day Parade, Oreland, PA (7-05-2021)
---
Gettysburg Reenactment (7-2-2021)
---
Cruise to Kauffman's BBQ Chicken Ranch (6-27-2021)
---
Memorial Day Parade – Croydon, PA (5-31-2021)
The Croydon VFW and their local community put on a very nice small-town parade for Memorial Day. The streets were lined with on lookers waving their flags as we watched the fire trucks, emergency vehicles, The Harry S Truman High School band, all kinds of cars and trucks and a few of our Corvettes with a few veterans riding along for the fun. Our drivers were Joe Parente, Denny Matlack, Pete Nikolopolos, Tim Simmons, John Pergine, Ed Scannapieco and Penelope Hunt.
---
Boyertown Historic Auto Museum & Bel Air Diner (May 22, 2021)
Saturday, May 22nd was Rosie the Riveter day at the Boyertown Museum of Historic Vehicles. Not only did we see cars, trucks, wagons, carriages and sleighs made across Pennsylvania, but we were able to watch as they commemorated the day by planting Rosie the Riveter rose bushes and listening to how important this former Boyertown Auto Works was in the war effort. Sixty-nine men were called to the war and their jobs were filled by their wives and other women. In 1939 the US Navy and Marine Corps chose this shop to design and produce front line ambulances and mobile machine shop repair units for the war. For their effort they received the "E" award for "outstanding production of war materials." The picture below shows the women in one of those mobile repair shops. We saw cars made by Hines and learned the Pullman was built in York, taxis were made in Philly, the Fairmont Park Trolley was made in 1976 for the Bicentennial, that Duryea brought his cars from New England to Reading to test his cars on the road that now holds the Duryea Hill Climb.
---
CCDV Cruise Night @ Valley Square, Warrington, PA (5-15-2021)
---
CCDV Road Trip to Schaefer's Canal House in Maryland (4-25-2021)
What a great day for lunch at Schaefer's Canal House on Sunday, April 25th. The morning started out with a chilly rain but cleared up for our travels to Maryland. We had five Corvettes as part of our caravan and the rest were leary of weather and road construction so they drove their other cars. But, never the less we were there in no time with not much traffic to speak of, even with Greg missing an exit, to no fault of his own. Lunch was very tasty as most of us got some kind of seafood as we watched the barge and a sailboat pass us by. We oohhed and aahhed at Jeff's large bowl of lobster mac and cheese. It looked so decadent. Everyone had a great time catching up with old and new stories. Afterwards, John Indelicato tempted us to travel a mile down the road for ice cream. What a nice impromptu side trip to cap off our lunch. I love ice cream! Thanks, John. Those in attendance were: Fran & Joanne Schmidt, Joan Allen & Kevin, Denny & Eileen Matlack, Greg & Janice Baugher, John & Rose Indelicato, Jeff & Chris Biscardi, Joe & Amy Parente, John Benischeck, and John & Barb Pergine.
---
CCDV Cruise Night @ Valley Square (4-17-2021)